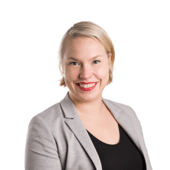 Elisa Laurila
Vice President of Operations – Operations
Hi,
I'm Elisa, VP of Operations, and I'm responsible for the delivery and support of our software solutions. My regular week consists of ramping up and following up on different initiatives, ensuring the process development of our key functions, understanding the status of different customers and projects as well as understanding the status and performance of the teams. I'm responsible for personnel management, such as team structures, roles and responsibilities, competence needs and interfaces towards other business functions. I'm responsible for the global cooperation within Topcon. I also plan and implement strategy together with the management team.
My background is heavily on medical imaging software. I graduated from the Oulu University as M.Sc. in Information Networks and originally I was interested in an academic career, but quite soon found myself working in a healthcare software business. During the last 10+ years, I have worked in various roles, but always in customer interface with focus on product management, sales support, deployment and technical support. I joined Kide Systems in January 2017 as Business Development Director, main task being Product Manager for Harmony (at the time known as Optoflow). During my years at the company, I've worked on product management, quality management, project management and support, with a keen eye on process development and continuous improvement. I've truly enjoyed the ride and opportunity of being part of growing this small start-up to an essential part of an established corporation. I'm looking forward for future - the challenges and opportunities it will bring!
Family of four keeps me busy on my free time. I also enjoy music and food in all its forms, water sports and outdoor life.