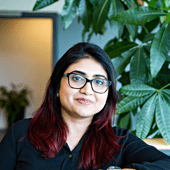 Kavita Hans
Implementation Manager – Operations
Hi! I'm Kavita, Implementation Manager. My responsibilities includes, ensuring compliance to timeframe and collaboration with stakeholders for all implementation processes.
My workdays consist of resource management, work allocation and planning while ensuring the well-being of the team members. At the same time I'm responsible for coordination with stakeholders to resolve issues within required timeframe and recommending appropriate changes for process improvement.
I was born in India and I completed Bachelor of Engineering degree (Electronics and Telecommunications) in 2007. After graduation I started working in IT industry, where I have worked in different verticals such as Service, Finance, Telecom, HealthCare, while holding different positions ranging from Software Developer to Business Analyst, Software tester to Quality Assurance Lead, and now currently I'm  working as an Implementation Manager.
After moving to Finland in 2012 and working in IT industry for 6+ years, I decided to strengthen my educational background and I did my Master of Engineering (2014-2015) in Industrial Management at Metropolia University of Applied Sciences, Helsinki with thesis on Employee engagement and I studied it from employee's perspective. That's when I got interested in management and leadership. Later I continued as a Quality Assurance lead in healthcare industry.
I joined Topcon mainly to understand customer interface(s) and their perspectives. Topcon's products are amazing, and they have a lot of potential. There is also a noble cause, which is to help patients and eyecare professionals.
I've enjoyed working here and one thing that motivates me is diversity and professionalism of the organization & my team. I genuinely like interacting and connecting with them and knowing them better as a person. At the same time I would like to work with the team to be better professionals, and to make a difference.
I make it a practice to meditate and read every day. And two kids keep me busy during my free time.