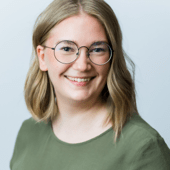 Joanna Aarrelampi
Office Manager – Administration
Hi! I'm the Office Manager at the Topcon Helsinki office and an overall administrative and customer service professional. I've studied both my Bachelor's in Multilingual Management Assistance and my Master's in Business Administration at Haaga-Helia University of Applied Sciences in Helsinki. I constantly want to work on improving the employee experience, a sense of belonging and being able to help people. Meeting people compassionately and thoughtfully is at the core of who I am, and at work it means I'm focused in making people feel seen, heard, and included. 
At Topcon, I'm taking care of our employee experience through events and activites, facility management and helping where I can. Additionally, it also means I'm supporting our local management and colleagues in various projects such as visitor management, travel arragements, finance policies, onboarding and employer branding etc. On most days you'll find me completing any task needed to get things done.
I only recently joined the company in October of 2022 and I was instantly impressed by the team's flexible, trusting and transparent way of working. People are really what makes any team special. We have a greatly diverse buch of people who are curious and want to learn from each other constantly - this made me instantly feel like I belong!