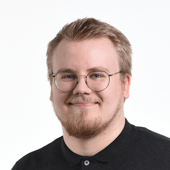 Rasmus Rautava
HR Manager – Administration
Hi there!

I'm Rasmus Rautava and I work as the HR Manager here at Topcon Healthcare. I'm the main responsible for our employee matters and workplace wellbeing. I also oversee our recruitment, education needs and benefits and act as an Office Administrator here in Oulu.

I've done my studies in the University of Lapland. I have a Master's degree in Administration with advanced studies in Human resources management. I started here at Topcon in the autumn of 2020. My main professional interests are organisational culture, onboarding and improving communication and feedback giving on all levels. 

I really love my job and my amazing co-workers. I greatly enjoy being the go-to person for many of my colleagues, whatever idea or challenge they might have. On my free time I'm usually either listening to Iron Maiden, watching The Office or playing Slay the Spire. Often all three at the same time.