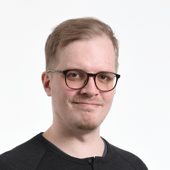 Uula Ranta
Data Architect – Product Management
Hello there!
I'm Uula, Data Architect at Topcon since March 2022 in the data engineering team. My daily work mainly involves researching, designing and implementing solutions for transporting, processing and storing varying volumes of data in and around our product portfolio, using modern open source technologies and cloud platforms.

I have a work history of 7+ years mostly in software engineering positions, along with studies and a B.Sc. (Tech) in Artificial Intelligence from the Computer Science and Engineering programme at the University of Oulu.
Joining Topcon has been a pleasure, and my top reasons for joining have held their value:
Meaningful work to better the health and lives of others

An atmosphere of mutual respect and trust
A beautiful, cosy office at the perfect location in Oulu
Outside of work, I enjoy running, disc golf and cooking, especially pizza. On Thursdays after work you are likely to find me at a nearby pub having a pint with some coworkers. See you there?