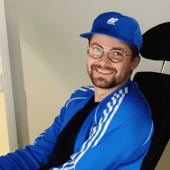 Mikko Neuvonen
Clicinal Test Engineer – Engineering
Hi! I'm Mikko, a proud member of the greatest testing team of the world. I'm currently studying Information Processing Science at Oulu University. I've been at Topcon since May 2021 when I joined the team as a summer trainee. Summer went by and still here I am. I like to work at Topcon because I learn something new every day and I feel like I can be truly myself. The atmosphere at the office is also something I haven't experienced on my previous work places; it is fun to come to work!
I've been working as an optometrist for about four years before I decided that it is time to pursue a different kind of working life. Topcon has offered me a work path where I can utilize my earlier profession and new studies perfectly. If there's someone reading this text who has experience in optometry, don't hesitate to send your resume!
During my free time I like to play padel (and I am brave enough to say it out loud), play video games and read crime novels.